Blundstone Unisex Gumboot Series - Safety Gumboots - Grey #024
Leaves warehouse in 7-10 days

Details

Items that are in stock can ship same day, others are sent via our partner brands. If you order products with different shipping times, we will send them all in one order which should take 5 to 7 days to ship.
Buy now pay later available with
Made to withstand the roughest and toughest working environments, the #024 are wide-fitting gumboots with a steel penetration-resistant midsole.
Available in sizes 5-13
Materials & Specifications
Grey safety gumboot made to withstand harsh working environments like underground mining
Steel toe cap and steel penetration-resistant midsole for maximum protection
Made from a PVC/nitrile compound that is chemical, oil and acid resistant
Soft metatarsal pad to reduce pressure and stress on the delicate metatarsal bones of your feet allowing full flexibility.
Removable Comfort Arch footbed with XRD® Extreme Impact Protection forepart insert provides superior comfort.
Anti-bacterial, washable and breathable footbed
Wide fit and a heavy-duty tread base for extra stability and a sole pattern that resists clogging, providing superior grip in most conditions
Distinctive upper pattern provides vulnerable areas with greater cut and abrasion resilience.
Reinforced ankle, heel and instep, and rear kick off lip
Knit lining for comfort
Two pre-stamped guide lines allow height adjustment for optimum comfort
Ergonomically engineered toe spring reduces wearer fatigue
Made in Tasmania
Features
Waterproof Safety Gumboot
Gumboots are highly resistant to water and liquid penetration keeping your feet dry for all day comfort.
Penetration-Resistant Steel Midsole
Provides maximum resistance against perforation of the sole by nails and other sharp objects.

Luxury PU Footbed
Our ultimate Comfort Arch footbed is made from soft polyurethane, covered with a full length cushion of foam polyurethane, topped by a long-wearing mesh cover. This footbed has an airflow and moisture-wicking system and also includes a large pad of XRD® Extreme Impact Protection under the ball of the foot.

Slip & Abrasion Resistant
Our soles combine a unique tread pattern with our expertise in blending the PVC/nitrile to provide excellent durability and slip resistance.

Wide Fit
Designed with a wider circumference through the calf area to accommodate even larger size legs and feet.

Steel Toe Cap
Broad fitting Type 1 steel toe cap tested to resist a 200 joule impact. Steel is the safest toe cap material available, providing the highest level of resistance to impacts, punctures, cuts, and rolling side compression.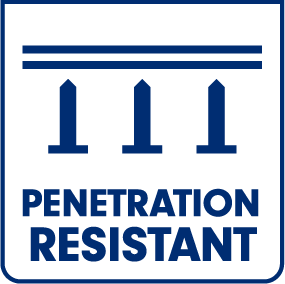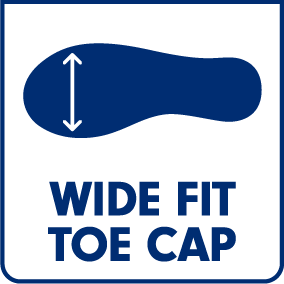 Abbreviations

EVA - Ethel Vinyl Acetate | PVC - Polyvinyl Chloride
Orders on all products in stock placed before 3:00 PM will ship the same business day and orders placed after 3:00 PM will ship the following business day.
At URSafeRite, customer satisfaction is our priority.