Blundstone Unisex Work Series Elastic Sided - Slip On Work Boots - Brown #600
Leaves warehouse in 7-10 days

Details

Items that are in stock can ship same day, others are sent via our partner brands. If you order products with different shipping times, we will send them all in one order which should take 5 to 7 days to ship.
Buy now pay later available with
The #600 is built for comfort, with a soft brown leather upper and leather lining. It also features hidden stitching in the heel for added durability.
Available in sizes 2-13 (half sizes 2.5 - 10.5)
Materials & Specifications
Brown premium leather elastic side boot
Leather lining makes it easier to slide on and off
V cut upper reduces stitching exposure
Featuring XRD® Technology for supreme impact absorption and a PU midsole for improved comfort and cushioning
TPU outsole highly resistant to hydrolysis and microbial attack

oil, acid & organic fat resistant

Fully removable contoured EVA footbed
Ergonomically engineered toe spring for reduced wearer fatigue
Steel shank—ensures correct step flex point, assists with torsional stability
Hidden stitching increases durability
Features
Brown Premium Leather
We inspect each piece of leather by hand before it begins the manufacturing process. If it doesn't meet our quality standards, we choose not to use it. Simple as that.
TPU Outsole —140°C Heat Resistant
The TPU outsole provides durability and grip on uneven surfaces.
SPS Max Comfort
Utilising XRD® Technology, SPS MAX comfort has been designed to provide ultimate protection and support, reducing fatigue and orthopaedic problems in the lower back, legs and feet.

Herringbone Elastic
A fresh twist on our signature style, offering a point of difference to your Blundstone collection.
Leather Lined
The supple leather lining gives added protection from the elements and makes your boots even easier to slip on and off.
Steel Toe Cap
The steel shank between the forefoot and heel ensures you maintain the correct step flex point and assists with torsional stability.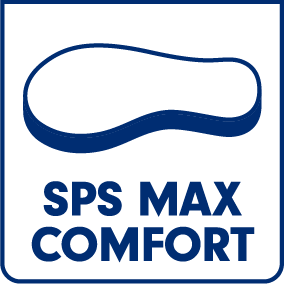 Abbreviations
PU - Polyurethane | TPU - Thermoplastic Polyurethane
We offer free shipping on AU orders over $150 and a free 30 day return period on all eligible items ordered online.
Orders on all products in stock placed before 3:00 PM will ship the same business day and orders placed after 3:00 PM will ship the following business day.
At URSafeRite, customer satisfaction is our priority.